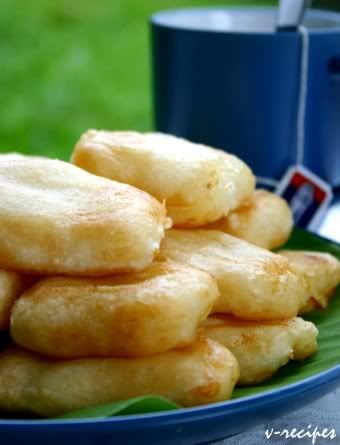 Bandung, the capital of West Java province, is about 180 kilometers distant from the national capital, Jakarta.
The city is well-known as a haven for snack-lovers and shoppers, as thousands of food vendors, upmarket restaurants and factory outlets selling garments, bags, footwear and other such things at low prices can be found everywhere around the city.
According to www.ayojajan.com, which provides information to food lovers, there are at least 567 places where you can buy snacks and delicious food in Bandung, a city now populated by over 2.5 million people.


They offer a wide array of food, ranging from traditional Bandung fare to Chinese and European cuisine. Most of these places are usually crowded with visitors on weekends, particularly long week-ends.

Bandung has a host of unique dishes, including peuyeum, baso tahu, baso tahu goreng (better known as batagor) and mie kocok.

It can also boast unique beverages like bajigur and bandrek, both good for warm you up. Bajigur is made from a mixture of coconut milk, brown sugar and kolang-kaling (fruit of the sugar palm), while bandrek is made of a mixture of ginger essence, brown sugar and cinnamon.

The following is a guide for you to find the locations of snack and food centers as well as shopping places in Bandung, a city also dubbed the Paris of Java.

Traditional cuisine

In the southern part of Bandung, or to be exact in Jl. Sukarno-Hatta, about 500 m to the east of Leuwipanjang bus station, you can find a line of restaurants serving uniquely Sundanese dishes, like nasi timbel (rice cooked in banana leaves) plus associated side dishes like salted fish, various fried vegetables, fried fish or chicken or steamed fish or chicken in banana leaves.

A complete ""nasi timbel must always be accompanied by terasi (a mixture made of chili, shallot, garlic, salt, condiment and brown sugar.)

If you go past two traffic lights from Leuwipanjang to the east, you can find two famous Sundanese traditional restaurants, Ampera and Laksana.

Although the two are opposite each other, they have not tried to grab each other's customers. Aside from selling Sundanese dishes, they also sell unique Sundanese snacks like peuyeum (fermented cassava) and various uniquely West Javanese items for souvenirs like keyhangers in the shape of an angklung (a uniquely Sundanese musical instrument made of suspended bamboo tubes that sound when shaken) or a shadow puppet character.

Another famous Sundanese restaurant, Sari Sunda, about 2 kilometers to the east of Ampera and Laksana, entertains its visitors with Sundanese music while they enjoy Sundanese dishes sitting crosslegged on the floor with panoramic views around them.

Similar Sundanese cuisine is also available at a number of restaurants on Jl. Dago and around Gasibu, in front of the West Java governor's office, which is known as Gedung Sate.

If you would like to enjoy Sundanese dishes and at the same time savor the beauty of Bandung's panoramic scene (particularly the city lights at night), pay a visit to Dago Tea House. Apart from serving Sundanese dishes, it also offers teh poci (hot tea from a clay teapot), bandrek and bajigur. If you are lucky, you can eat your food while enjoying a Sundanese music and dance performance.

Bandrek and bajigur, can also be obtained at foodstalls in Taman Cilaki, behind Gedung Sate. One such bajigur stall is Bajigur Supratman, which has been there for 45 years. Also in Taman Cilaki you can find other foodstalls selling seafood and steak at low prices.

Another drink associated with Bandung is fresh milk. You can easily get it at Lembang, north Bandung. Or just go to Bandoengsche Melk Centrale (MC) on Jl. Aceh, about 5 km to the west of Bandung City Hall.

This building, now renovated, used to be a center for the production and distribution of milk to all parts of Bandung in the 19th century.

Accommodating about 100 visitors, it offers a menu consisting milk and other foods made from milk like yogurt, kefir and milkshake, all sold at prices ranging from Rp 1,000 to Rp 4,500 per glass.

If you like peuyeum you can try it at the intercity bus station at Leuwipanjang, Jl. Soekarno-Hatta. If you like it, you should also try colenak (roast ""peuyeum plus a solution of brown sugar and grated coconut).

One famous outlet is Murdi Putra, Jl. Ahmad Yani 777, off Pasar Cicadas, about 5 km to the east of downtown Bandung. The counter uses up about 70 kg per day because it also supplies its colenak to upmarket hotels and restaurants in Bandung. It is also available around Pasar Simpang Dago in the northern part of Bandung.

Batagor is one of the most favorite dishes in Bandung. It is made of a mixture of sago and fish put into tofu. It is also served with chili mixed with peanut sauce.

The oldest vendor of batagor is Batagor Isan on Jl. Astanaanyar. It began its business back in 1969.

Other venues where you can find batagor include Batagor Kingsley, Jl. Veteran and Batagor Riri on Jl. Burangrang. Close to Batagor Riri you can find a family restaurant, Saboga, which sells a combination of baso tahu and siomay (steamed ravioli).

In front of these you can find a food court that sells Martabak San Francisco (pancakes with a savory filling), a place always crowded with buyers.

If you wish to sample Western dishes, go to Bukit Dago, where you can find restaurants and cafes such as The View, The Peak, Callista and Sierra. Here you can also enjoy nighttime views of the city.

Handicrafts and clothing

If you need uniquely Sundanese or West Javanese souvenirs, just go to Jl. Braga, on the left side of Gedung Merdeka. Here you can find shops selling a variety of handicraft items. The nearest is Sarinah Department Store, about 100 meters behind Gedung Merdeka. If you would like to buy genuine wooden puppets, go to Jl. Pangarang, behind Hotel Savoy Homann, to find the makers.

If you like shopping, don't forget to go to Cihampelas, west Bandung, as this is where you can find a lot of shops selling low-priced jeans. If you would like to buy low-priced footwear, go to Cibaduyut in south Bandung.

If you wish to buy more than souvenirs, go to the north part of Bandung where you can find a lot of factory outlets selling branded items ranging from trousers, shirts, footwear and bags to many other items, all at low prices.

Scores of ""factory outlets"" can be found along Jl. Dago, Jl. Riau and Jl. Setiabudi. There are at least five major factory outlets on Jl. Riau alone: Heritage, The Summit, Metropolis, Renarriti and China Town.

Of course, there is a price war between these factory outlets. The Summit, for example, has started a special counter, ""Forever Sale"", which sells many types of garment at just Rp 10,000.

Along Jl. Dago, you can also find a lot of factory outlets. Dago, which is at its most crowded at weekends, is also an area where you can find a lot of vendors of colenak, roast corn and roast sticky rice, plus many other snacks like roast banana with cheese and toast.

A week is not long enough to visit all the venues where you can buy snacks and foods and do your shopping. A haven for shoppers, Bandung attracts a least 50,000 tourists -- 70 percent from Jakarta -- on weekends, a reason why the city's main roads, particularly in the north, are always congested on Saturdays and Sundays.